Cervico-ocular Reflex (COR) in Cervicogenic Dizziness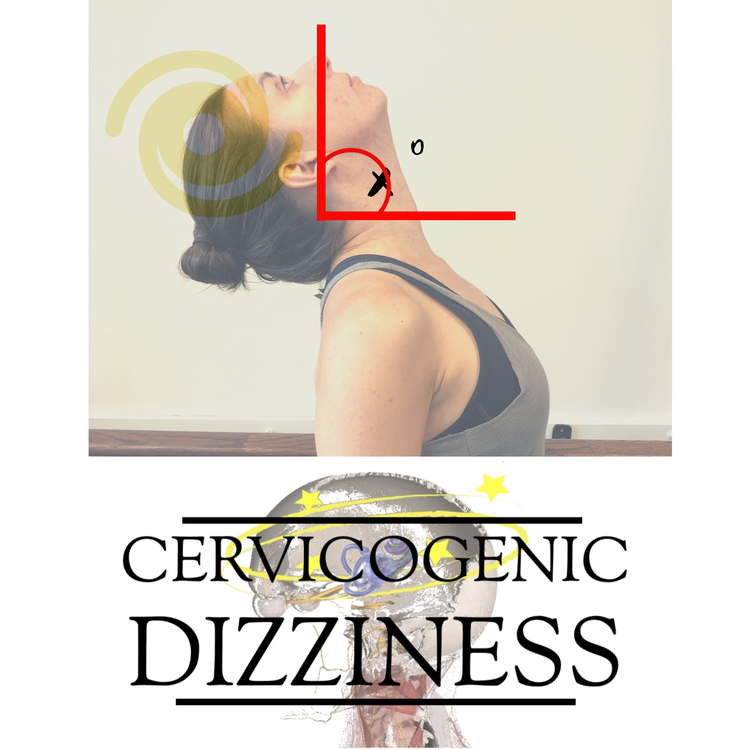 Cervicogenic Dizziness can result from a mismatch between vestibular, visual and proprioceptive system input, which is usually caused by cervical pain, trauma, or both. It affects head on neck orientation and the disturbances in sensory mismatch can cause symptoms of lightheadiness, dizziness, unsteadiness and even drunkenness.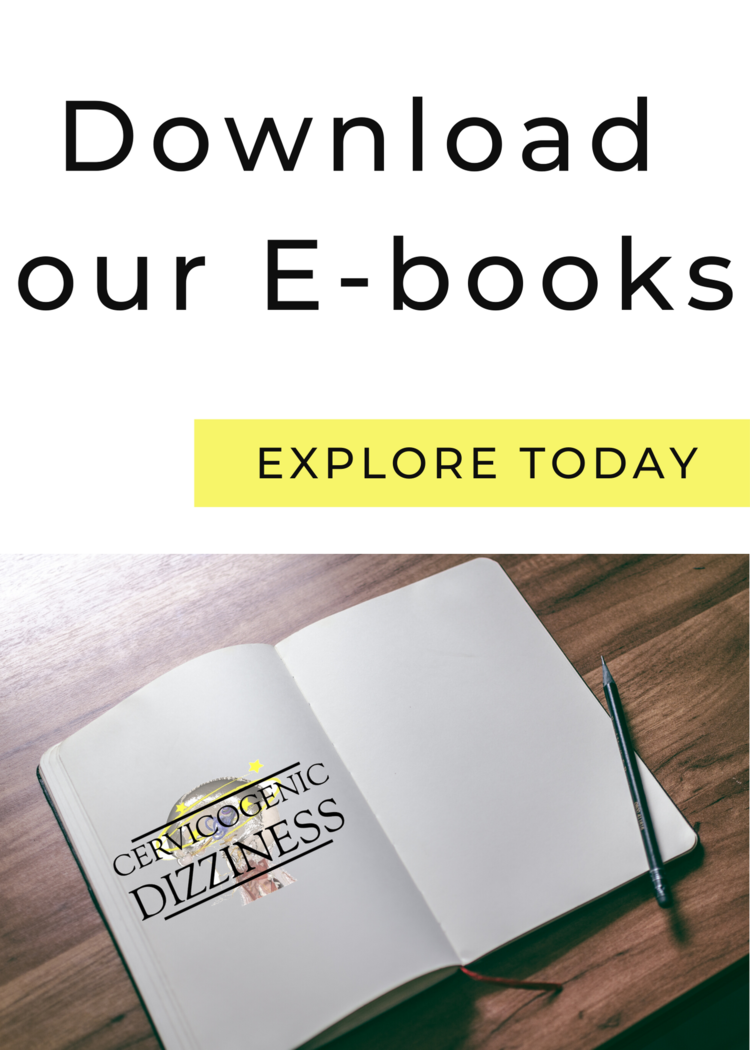 We do know that postural control for head on neck orientation is not only connected via the visual field and vestibular apparatuses, but also the cervical spine, especially the upper cervical spine. This is due to the high abundance of muscle spindles in suboccipital and surrounding musculature, as well as mechanoreceptors from joint proprioceptors.
CERVICO-OCULAR REFLEX (COR) IN CERVICOGENIC DIZZINESS
Three important reflexes associated with the cervical spine and postural control are the vestibulo-ocular reflex (VOR), cervico-collic reflex (CCR), and cervico-ocular reflex (COR). These well-known reflexes have connections with the sensory receptors in the cervical spine via the above projections and can have altered function after cervical pain, trauma, compensation or all three. Generally speaking, they have synergistic properties.
Afferent information from the neck to the vestibular nuclei gives information about neck position. The COR is a reflexive eye response that is elicited by rotation of the neck. The COR is elicited by proprioception of the facet joints of the cervical spine and deep mus­cles of the neck.
It serves to stabilize the visual image on the retina during head and trunk movements. In daily life, it is not stimulated independently as it is elicited by absence of both visual and vestibular input. In fact, under normal circumstances, the COR is minimal in human (Hyugen 1991).
Combining the COR with the VOR equals extra-ocular control when the head moves. Therefore, when the COR is combined with other reflexes, it assists in postural control.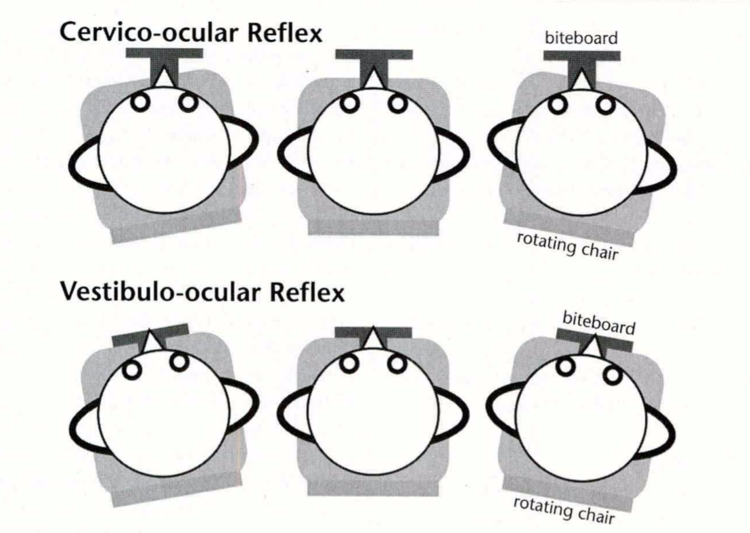 Weak, low-velocity nystagmus may be elicited in normal subjects by trunk rotation with the head immobilized and kept in the dark (thereby avoiding vestibular and visual stimulation (Zamyslowska-Szmytke et al 2019).
An illustration of reflexes connections associated with cervical afferents: cervico-collic reflex (CCR), cervico-ocular reflex (COR), vestibulo-cervical reflex (VCR) and vestibulo-ocular reflex (VOR) are shown below: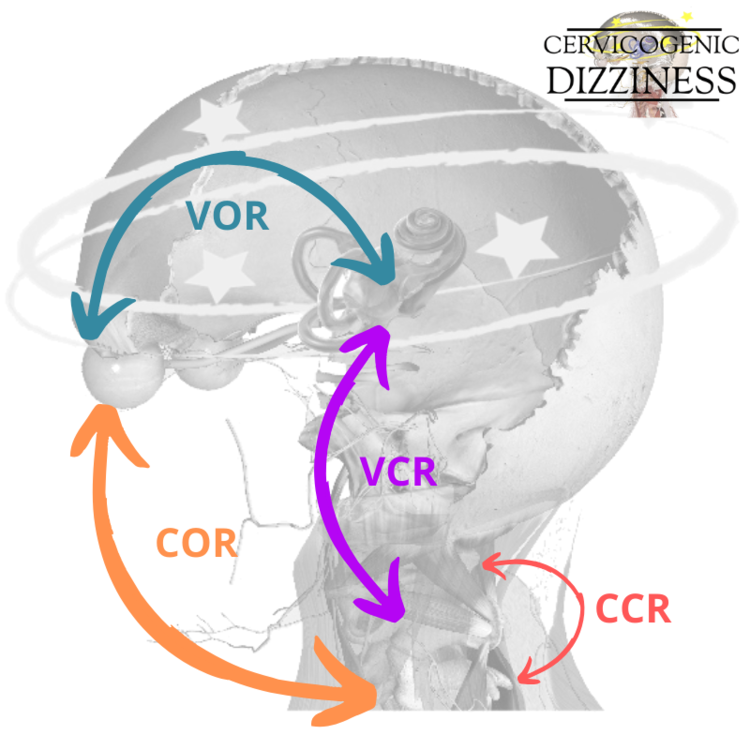 In contrast to the VOR, the COR responds optimally to head movements with a low velocity. This is much different than testing the VOR, such as the head thrust test, in which the head is moved in a high velocity method in rotation. Makes sense right with compensation--- if you lose your fastest player on your team due to a red card, you can still function with a different game plan.
HOW CAN YOU TAKE THIS INFORMATION TO TREAT YOUR PATIENTS?
This could make a difference in treating a patient with both a vestibular and cervical issue in regards to speed of training with vestibular and cervical movements to maximize what can be improved via habituation in daily life. As a clinician, you may want to include both high and low velocity head/neck movements through a progressive sensorimotor training program, if necessary, to maximize outcomes.
One of the beautiful phenomenons behind reflexes, especially ones that overlap to compensate for function of the body, is the ability to take on the lost function during specific tasks. This is very important in maintaining body balance, especially as we age. This is a pretty awesome compensation pattern and highlights the importance of the human nervous system to be able to adapt via neuroplasticity.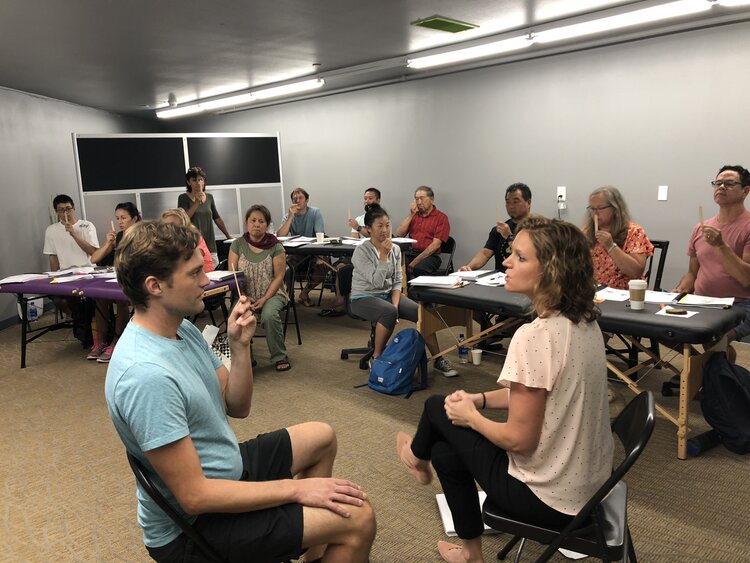 This is seen in patients with vestibular deficiencies/losses/absences where the cervico-ocular reflex takes the control of function during the loss of the vestibulo-ocular reflex (Bronstein & Hood 1986, Heimbrand 1996).

This can be seen with labyrinth defective persons and with increasing age, where the vestibular function deteriorates (just like any other organ) so may be something to think about while treating your older patients who may have "plateaued" with vestibular function.

You can also relate this to a patient with whiplash-associated disorder or even in someone with reduced neck mobility, where an increase in COR gain with reduced neck mobility and lack of synergy between VOR and COR (Kelders et al 2005, Montfoort et al 2008).

Moreover, a change in COR does not have to just come from traumatic neck pain, but has been shown to be increased in non-specific neck pain (de Vries et al 2016).

Interestingly enough, just a use of a stiff neck collar to immobilize the neck (think general muscle stiffness/guarding) has been shown to modify the strength of the COR (Montfoort et al 2008).

Even more specifically, in a group of patients with limited C1-2 mobility as tested via the flexion-rotation test, Zamyslowska-Szmytke et al 2019 found that patients with asymmetric restriction in neck rotation and increased neck muscle tension reveal the tendency to have an increased response in the vestibular system, with co- existing asymmetric COR upregulation.

For some of your patients with dizzy and/or neck pain, a typical approach of canalith repositioning procedures, vestibular rehabilitation or cervical therapeutics can address the problem. However, we find that the clinicians who benefit most from this knowledge, and even our class, are the ones looking to help the patients who do not "fit" the protocol-based therapy and manual therapy, but need more tools to the tool-box to learn how to combine therapeutics of the vestibular, cervical and sensorimotor systems to give better results to their patients.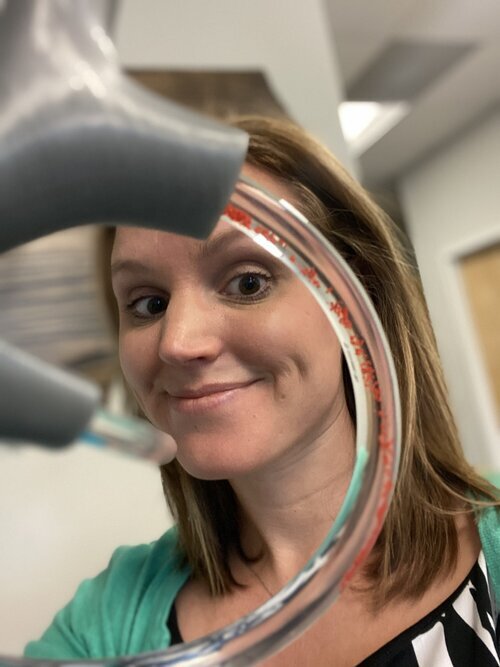 If the patient who has a disturbed vestibular system or with increase in age, he or she may have to rely more heavily on the COR due to impairment of the other stabilization reflexes (Kelders et al 2003). If a patient has nonspecific neck pain, then an increase in COR can occur (de Vries et al 2016). Ultimately, a patient with dizziness and neck pain most likely has both of the above scenarios.
Therefore, if pain, trauma or altered movement strategies in the cervical spine alter the afferent input to the vestibular nuclei and other central organs, this compensation strategy has now become impaired and ultimately the perfect storm could arise with symptoms such as dizziness, lightheadiness, unsteadiness or drunkenness.
We think of this concept as we do with other compensation patterns in the body, through a credit section and debit section. For a simplistic description, when one system (i.e. vestibular = VOR) goes down in the red, we need to step up our game so another system (i.e. cervical = COR) to pick up the slack. We have to re-calibrate and keep maintenance so we don't dip too deep in the debit section and go bankrupt.
We "address" these reflexes with a combined manual therapy, vestibular and sensorimotor approach in our Physio Blend. As clinicians, we do not visually change these reflexes, but do feel it is best if the vestibular and orthopedic therapist knows about them in order to improve involuntary control of the head on neck with your dizzy and neck pain patients. If your hypothesis is one in which one system (such as vestibular) is down-regulated due to pathology, then another system (such as cervical) is up-regulated. This works well until all systems are in the dump!
For the purpose of this blog, this is a basic understanding of reflexes, locomotion, postural control and static/dynamic head on neck control. We think this is enough pertinent information for the day to day clinician that we teach (and also do as clinicians) to give you an idea of what may go on neurologically with disturbances with the visual, vestibular and cervical systems. For more information, we do recommend reading several other pieces of literature to delve further, especially the works of Morningstar, et al 2005, and Kelders, et al 2003.
---
You can learn more about the screening and treatment process of Cervicogenic Dizzinesss through Integrative Clinical Concepts, where the authors (husband–a manual therapist a wife—a vestibular specialist), teach a very unique course combining both the theory and practice of vestibular and manual principles in their 2-day course. Pertinent to this blog post, the 2nd day includes the "Physio Blend", a multi-faceted physiotherapist approach to the management of Cervicogenic Dizziness, which includes treatments of the articular and non-articular system of manual therapy and the most updated sensorimotor exercise regimen.
If you would like to host a course for your staff (either a vestibular, neuro, sports or ortho clinic), please do not hesitate to contact me at harrisonvaughanpt@gmail.com for more information.
AUTHORS
Harrison N. Vaughan, PT, DPT, OCS, Dip. Osteopracic, FAAOMPT
Instructor: Cervicogenic Dizziness for Integrative Clinical Concepts
Danielle N. Vaughan, PT, DPT, Vestibular Specialist
Instructor: Cervicogenic Dizziness for Integrative Clinical Concepts